How Traffic Chief Can Help You Solve Your Traffic Problems
Posted 1:39pm, Wed 7th October, 2015 by Trafficchief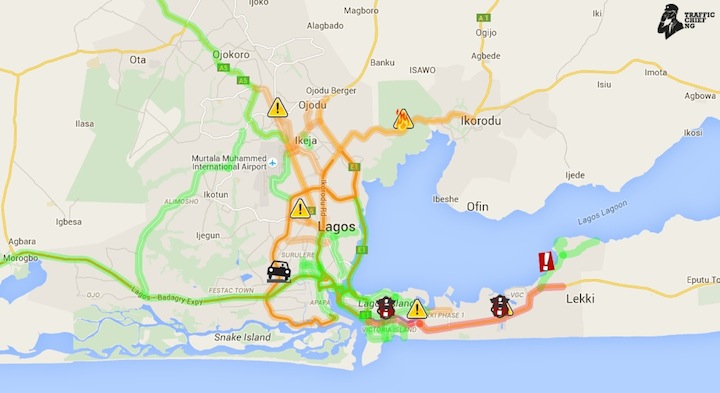 Here at Traffic Chief we're all about using Big Data, in particular Twitter Traffic Reports to solve common traffic problems in Nigeria. Our platform analyzes Twitter Traffic Reports and integrates them into our various Traffic Apps so that they can be a source of Actionable Intelligence to our Community Members. Here are some of our Solutions that can help you beat Traffic: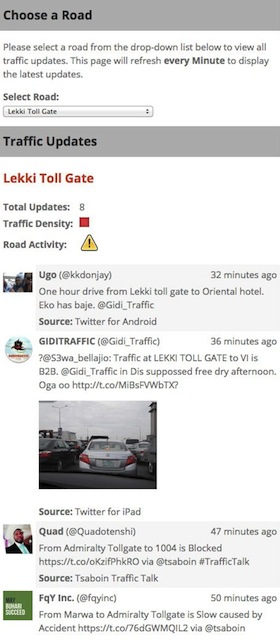 View Traffic Reports by Route
This is a very useful App. It let's you pick from a list of major and minor roads in the Lagos metropolis and shows you all the Traffic Reports posted on Twitter about your selected road. The reports are updated in real-time and the page refreshes every minute to ensure you always see the most recent reports. This saves you the trouble of having to search through the hundreds of Traffic Reports on Twitter looking for reports relevant to the route you're about to take.
To view Traffic Reports by Route visit this page:
http://trafficchiefng.com/mobileApp.php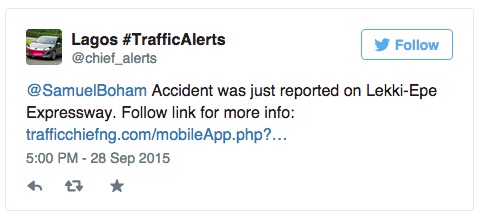 Receive Traffic Alerts on Twitter or by Email
Now we understand that some people may not have the time to check Twitter or our Website for Traffic Reports so we thought, why not let the reports come to you? Users can setup a Traffic Alert on our website and get notified via a Twitter mention or even receive an Email when Traffic is reported on any route you specify. For example, you can setup a Traffic Alert to notify you on Twitter when Heavy Traffic is reported on 3rd Mainland Bridge. Now you can just sit back, relax and just wait for our notifications.
To receive Traffic Alerts on Twitter or by Email just follow these steps:
Register on TrafficChiefNg.com
Login to TrafficChiefNg.com
Click "Create Traffic Alert" on your Profile Page
Setup your Traffic Alert
View Traffic Reports on a Map
Now if you want a kind of "God's Eye" view of Traffic around a particular city like Lagos then this App is for you. We dubbed this Map "God's Eye" because of the Omnipresent ability of knowing what's going on everywhere at the same time. For example, just by viewing the Map you can easily see what routes have are experiencing Heavy Traffic, where Accidents have been reported, and with this information you can plot out the best route to take.
To view Traffic Reports on our Google Map simply navigate to our Home Page using a Laptop, Desktop or Tablet:
http://trafficchiefng.com
.