The Future of Transportation in Lagos State
Posted 9:31pm, Thu 1st October, 2015 by Trafficchief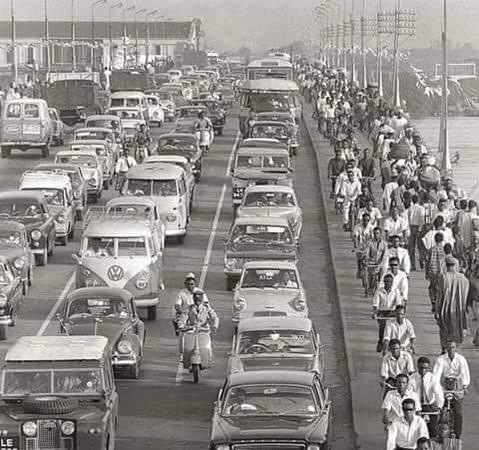 According to a recent CNN Article, Lagos State is predicted to double in size by the year 2050. Now although this may seem a bit far off, the effects of over-population are already being felt by commuters in Lagos today.


"Carter Bridge, Lagos in the 1960's"
This picture started the discussion on Twitter. It's a picture of Carter Bridge in Lagos taken some time in the 1960's. Ignore the fact that all the vehicles are uniformly within the boundaries of their lanes. The main item of focus here is the widespread use of Bicycles, even on a major road like Carter Bridge!
Bicycle Transportation
If you're a regular to our Blog then you'll know that we're ardent advocates of
the use of Bicycles as an alternate means of transportation
. In addition to the obvious health benefits, it could really help de-congest the traffic situation in Lagos. A quick survey showed almost unanimously that most people we're concerned about being victims of hit-and-run knowing full well the aggressive nature of drivers in Lagos. Even with the introduction of Bicycle lanes, you must ask yourself how many people even know the purpose of a Zebra Crossing? Do YOU know the purpose of a Zebra Crossing?
The Light-Rail Project
The Light-Rail Project was conceived and began implementation while Lagos was being run by former Governor Babatunde Raji Fashola. The plan was to have as many as 7 Light-Rail lines connecting different areas of Lagos and providing a quick, efficient and affordable alternative to road transport. As fate would have it, Lagos State remained under APC control after the past elections and the new Governor Akinwunmi Ambode is tasked with completing this project, or at least making significant progress before his own tenure expires. In fact
Ambode vowed to complete the Blue Light Rail Project from Mile 2 - Marina in the next 12 months
.
So I take the Blue Rail from Mile 2 to Marina, what next?
No doubt, when the Light-Rail Project is completed (even if only the Blue Line), it would help alleviate the traffic situation we're already facing, even if only a bit. But the major concern is after transporting people from Mile 2 all the way to Marina in a matter of minutes then what next? What are we going to do with the hundreds of Lagosians stuck at Marina with no vehicle to take them to their final destination? One idea that springs to mind is an exclusive Island Bus Service; an efficient, state-managed bus service exclusive to the Island alone that transports incoming commuters from Rail Lines around Island routes such as Lagos Island, VI, Ikoyi, Oniru, and Lekki Phase 1.
Also, what measures can you put in place to ensure civilians leave their cars at home and patronize this service? Well some options include pedestrianizing specific areas of the CBD (Central Business District), Introducing Park 'n' Ride initiatives like we had in the 80's, Lagos Government could even experiment with
Congestion Charges
as used
successfully in other Countries
. Congestion Charges is an interesting concept, and could be a major source of revenue for the government but would it fly with Lagosians?
Waterway Transportation
Waterway Transportation is another initiative that was being driven by the past Lagos State Administration.
Jetties were being constructed all over Lagos
in areas like Falomo, Ajah and Ikorodu. Despite the massive investment push, one couldn't help but sense a hesitation by Lagosians to embrace Waterway Transportation. Was it the poor safety standards? Or a general lack of awareness? Whatever the reason, the recurring
News Reports about Waterway Accidents
are sure to shine a dark light on the industry, discouraging many from patronizing. A trend that will require a substantial amount of good press to reverse and reorient the minds of many Lagosians.
So if Water Transport is so lucrative, why aren't there many Players?
The Water Transport business is currently run by smaller operators using small vessels who on a daily basis have to contemplate the tradeoff between profit margins and safety compliance. The major deterrent to bigger, serious and more business-savvy players is a lack of financial and operational support from the Government. Most of the waterways can't even accommodate larger vessels unless they're dredged appropriately. Former Lagos State Governor
Fashola pledged his support in the past
but till date nothing has materialized.
The Waterway Transport Industry needs serious players. The Lagos State Government need to setup Tender Processes to issue out new Waterway Licenses that only serious players that meet up to specific Operational, Maintenance and HSE Standards can apply for. This could be a huge source of revenue for the Government. Also, by making the process open and transparent, it would foster clean competition and would prevent operators from slacking under the cover of exclusivity.
Political Change & Continuity
PDP comes into power, starts a long-term project that will likely outlive their tenure, elections come, APC wins and takes over and 1st thing on the agenda is to put all PDP projects on hold in favor of APC projects, and vice versa. Sounds familiar doesn't it? Political change in Nigeria, whether at the State or Federal level is a major cause of wasted funds, resources and effort in the country. The inability of Politicians to look passed personal pride, glory, achievement and credit to their own party and focus on what matters most; helping the people, is a major deterrent to the progress of our Nation as a whole.
Now let's not go off point here, let's keep this within the context of this article. During the last Lagos State Elections, the PDP Candidate Jimi Agbaje and the APC Candidate Akinwunmi Ambode had
a very interesting Debate
in which a lot of topics were touched on. One important topic was the
Eko Atlantic Project
. This is no doubt an Epic project that would attract a lot of Foreign Investment, would create a ridiculous number of jobs, would multiply Lagos State's revenue exponentially as well as Strengthen Lagos' position as a major Tourist and Business destination. Now Jimi's argument was; why can't this City be located in Badagry, Epe or even Ikorodu? Why behind Victoria Island? Now his reasoning was that, as it stands, the whole of Lagos converges to the Island in the morning, and disperses in the evening, and this is the main cause of Traffic in Lagos. So, would it be smart to create this Mega City extension directly behind where the whole of Lagos converges to in the first place? A good point.
In Closing...
Lagos has taken steps in the right direction to mitigate the effects of this anticipated population boom. But will these steps be enough? Will the projects be managed properly and completed in time? And will future Administrations (regardless of Political change) keep the torch burning? The answers to these questions will determine whether 20 years from now Lagos would be a place of much enjoyment... or of much suffering!
.