Why Lagos needs to start Carpooling
Posted 5:25pm, Sat 26th July, 2014 by Trafficchief
A New Feature Proposal by the Developers of TrafficChiefNG.com

It's no secret that Lagos State has a lot of Traffic Problems compounded by various reasons one of which is the fact that there are just way too many cars on the road. According to the Lagos State Government's Motor Vehicle Statistics for 2012, in Lagos alone there are just over 1,000,000 cars. Did you know that in 78% of all rides, the driver travels alone? Compared to 12% where only 2 people travel in the car and 10% where 3 or more people travel in the car.


What is Carpooling?
Carpooling
, also known as
Vehicle Sharing
or
Ride Sharing
is the sharing of car journeys so that more than one person travels in a car. The idea is to share rides with your neighbor, colleague or even strangers in a bid to decongest the roads and reduce the number of empty cars all going in the same direction.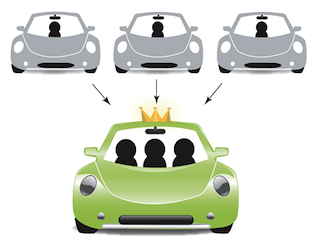 Benefits of Carpooling
By having more people using one vehicle, carpooling has the following benefits:
+ Reduces each person's travel costs such as fuel costs, tolls, etc especially during fuel scarcity
+ Reduces the stress of driving.
+ Carpooling is a more environmentally friendly and sustainable way to travel.
+ Reduces Carbon Emissions and Air Pollution
+ Reduces Traffic Congestion on the roads, less cars means less need for road maintenance
+ Reduces the need for parking spaces.
+ Affordability, usually cheaper than public transport saving you on commute costs
+ Usually more comfortable and convenient than public transport (e.g. Danfo)
+ Reduces the wear and tear on your car
+ Meet new people, make friends and have fun all stress-free
+ Monetize your empty seats, make money by carrying others
Lagos
is a very peculiar market. Even as this concept seems so straightforward and the benefits obvious most would still prefer to take their own car out because it gives them a sense of independence; the ability to drive whenever they feel like it. However we know that there's a group out there that would appreciate a
Carpooling Service
. A group that would agree that the stress of driving in Lagos far outweighs the desire for driving independence.
Carpooling Service
Carpooling actually already exists in Lagos. You may have seen drivers in private cars pulling up at Bus Stops, announcing their destinations and commuters rushing in. This is basically an informal kind of Carpooling. We just seek to formalize and structure it a bit.
We're creating a brand new service to help promote
Carpooling
in
Lagos
. This new service will be targeted at both Carpool Drivers and Passengers. Our network will connect Drivers willing to share their cars with Passengers looking for affordable and comfortable transportation. The aim is to introduce Carpooling as a new sustainable transport alternative making it easy, safe and accessible to all.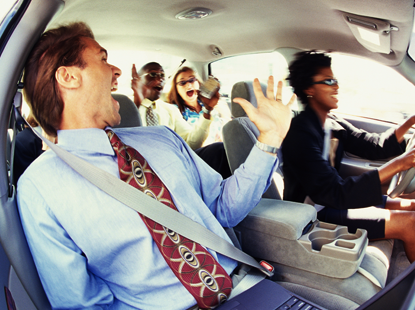 Drivers
The
Drivers
are are typically the owners of the cars and offers empty seats to willing
Passengers
. Here are some of the activities that involve the Drivers:
+ Register your personal info and car info (pictures, etc)
+ We verify your info for security
+ Specify your routes (map showing route), times and pickup points
+ Will you always drive or prefer drive rotation (passengers take it in turns to drive)
+ Do you accept rides for free or for a fee (negotiable)?
Passengers
The
Passengers
are typically those in need of rides and can book or reserve a ride from the
Drivers
. Here are some of the activities that involve the
Passengers
:
+ Check for available rides, Driver profiles and choose who they want to ride with
+ Can discuss with drivers about meeting points and charges if any.
Security Concerns
The major concern with Carpooling is the idea of riding in a strange car with strange people. This is usually a major obstacle preventing many people from adopting the concept. Although in reality the risk of crime is small, it is still a risk and the consequences could be severe. Two remedies we plan to adopt is:
+ A thorough background check on Drivers
+ Adopt a reputation systems that flags problematic users and allow responsible users to build up trust
So what do you think about the idea? Sounds like something you would patronize? Drop a comment below or contact us on Twitter by mentioning
@TrafficChiefNG
and let us know what you think. Thanks for reading.
Carpooling Survey
Help us analyze what the Public thinks about Carpooling by filling out this quick and easy
Survey
. The results will go a long way in helping us assess the demand for the service and refine the product to suit your needs. Please click on the link below to launch the Survey. Thank you.
https://docs.google.com/forms/d/1HqrThzeXLvNnH1NomDLn37KRfNU9JDpdbj8mRRW-oJ8/viewform
.