How to Receive Lagos Traffic Alerts via Twitter
Posted 10:16am, Wed 9th July, 2014 by Trafficchief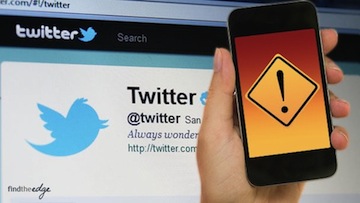 New Feature Post by the Developers of TrafficChiefNG.com

Do you have a Twitter Account? If you do then we've got some very exciting news for you! Rather than wasting your time searching through our platform and Twitter for Relevant Traffic Reports you can now sit back, relax and receive Twitter Mentions on your smartphone's Twitter App whenever Accidents, or other Traffic-Related Incidents occur on any Road of your choice.


For example, let's say you live in
Ajah
and work in
Victoria Island
. This would mean that you drive down
Lekki-Epe ExpressWay
everyday when going to Work in the morning and returning Home after Work at the end of the day. Now imagine receiving a
Twitter Mention
on your Phone whenever someone reports an
Accident
,
Construction Work
in Progress or other
Traffic-Causing Obstacles
along
Lekki-Epe ExpressWay
, wouldn't that be very helpful!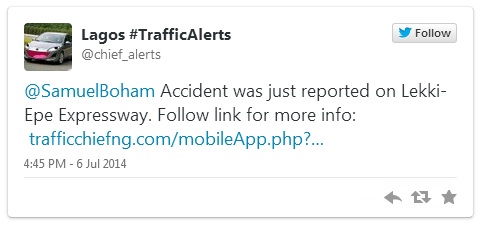 How can I Setup a Traffic Alert?
Setting up
Traffic Alerts
is easy, just follow these simple steps:
Are you registered on TrafficChiefNG.com? If you are then Login, if you're not then please Register on our website
After you Login you'll land on your Profile Page. Click on the "Create Traffic Alert" link on your Profile Page with the icon below.

Choose the Road you would like to monitor for Traffic Reports
Choose the Activity you would like to monitor on the Road your chose previously
Enter the Twitter Handle that you want to receive the Twitter Mention whenever your chosen Activity is reported on your chosen Road. Please NOTE that the Twitter Handle must be in the format "@MyTwitterHandle"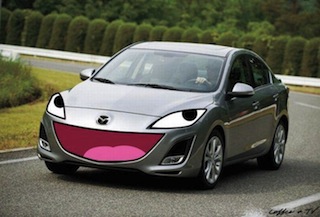 Wasn't that easy? :) Now free your mind of all worry and let us do all the hard work of checking for Traffic Reports that concern you and notifying you on Twitter. Enjoy!
Please drop a comment below if you have any questions about the new feature or run into any problems setting up your
Traffic Alert
. You can also get in touch with us on Twitter via
@TrafficChiefNG
. Thank you and have a Great Day!
A big thank you to
@muyi_babs
for the suggestion on Twitter!
.